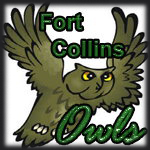 The Fort Collins Owls are one of the original Off Topic Baseball Association teams and have been owned by Green & Gold Heart since the inception of the league. G&GH originally wanted to name the team the Fort Collins Owls in Towels, but finding an owl in a towel for the team logo proved to be an impossible task and the team name was shortened to simply the Owls.
The Fort Collins Owls play their home games at the Owl Nest at Horsetooth Stadium in Fort Collins, Colorado.
The Early Years (2004 - 2010)
Edit
The first ever Fort Colllins Owl was outfielder Bill Kettler, who the Owls selected in the first round of the inaugural draft. Other notable players taken by the Owls in that draft are now Hall of Famers Howard Albaugh and Alberto Murillo, who were both minor league prospects at the time.
In the OTBA's inaugural season, the Owls finished 87-75, only two games behind Estrogen Division winner the Tittybong Titans. The Owls continued the rest of the decade in mediocrity, finishing second in the division three times, third once, and fourth twice.
The Owls made their first playoff appearance as a wild card team in 2010, behind the dominant pitching of Howard Albaugh and Joe Haveman, and the bats of Oscar Coy and one-year rental and future Hall of Famer, James "Superfly" Rebello. The Owls were eliminated in the first round and would not see the playoffs again for over a decade.