Javier Valenza Park at Ikea Gardens is the home of the Stockholm Royal Squirrels of Sweden of the OTBA and was built in 2005 on the grounds of the old Stockholm Olympic Stadium, after the city realized how much better baseball was than any other sport. It features a state-of-the-art Ikea-built Invisible Roof(TM) that lets fans enjoy the beautiful skyline while being protected from the elements. This retractable roof was specifically designed for Ikea Gardens using materials such as transparent aluminum and photonic generators.
The stadium currently has a maximum capacity of 60,000 and is generally known as a hitter-friendly park. Originally known as Ikea Gardens, the stadium was renamed The Ikea Baseball Park Presented By SAAB in a blatant money grab in 2020. After the naming deal expired, the stadium was renamed Javier Valenza Park at Ikea Gardens at the inauragural team Hall of Fame ceremony in 2030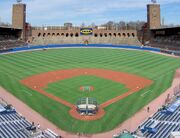 .
Dimensions
Edit
The stadium has a 12 ft high wall all around the outfield and has symmetrical dimensions from left to right.
Left/right line: 320 ft
Left/right field: 355 ft
Left/right center: 375 ft
Center Field: 400 ft
Concessions
Edit
The park is known for its offbeat but critically acclaimed dining options. Traditional favorites include Swedish meatballs and lingonberry juice cocktails but the team has been expanding the offerings in the last few seasons. New additions include:
Lingonberry-infused lutefisk
"The Walking Fish" - picked herring served over pigs feet
"Strikeout soup" - pea soup with K-shaped crackers
"Fastballs" - Fishballs and potato dumplings, filled with pork
"Home Run Sandwich" - Fried herring, wrapped in bacon with slices of Christmas ham, served on wheat bread with a pickle
"Snap throw" - Ginger snaps shaped like baseballs